MAYSVILLE, KY, USA, Feb 20, 2020 – Carlson Software continues to expand its representation in Europe, naming Pawel Grabowski of Warsaw, Poland, as the company's Regional Sales Director for its land development product line in Eastern Europe.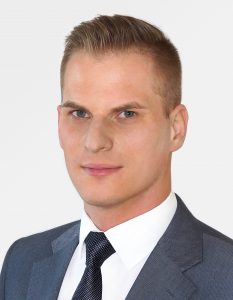 Pawel Grabowski
The countries Grabowski will be covering include his homeland of Poland, plus the Baltic countries of Estonia, Latvia, and Lithuania; Belarus, Ukraine, Slovakia, Romania, and Moldova. "I look forward to conducting sales and training seminars for both dealers and customers, as well as visiting Carlson's existing dealers and customers to better meet their needs. I will also be attending regional conferences," he says.
Grabowski has worked as a land surveyor both during his education in Geodesy and Cartography at the Military University of Technology in Warsaw and following it. He has also worked as a sales manager for a dealer of surveying equipment in Poland, responsible for the sales of GNSS receivers, total stations, and 3D laser measurement devices.
"Carlson Software is very popular in Eastern Europe through its data collection software options, SurvCE and SurvPC, but many regional surveyors are not aware that Carlson also produces good quality hardware and office software," notes Grabowski. "My aim is to educate people that Carlson has the full solution – that it can efficiently take them from field to finish."
In addition to attending the Western Geodetic Society's Geoforum 2020 in Lviv, Ukraine, to be held April 1 to 3, Grabowski and members of the Carlson EMEA team are organizing a dealer meeting to be held in Cracow, Poland, on June 11 and 12.
The Carlson Software land development product line includes both hardware and software for the agricultural, aerial mapping, civil engineering, construction, data collection, GIS, and land surveying industries. Carlson also provides comprehensive solutions for machine control and mining.
Grabowski can be reached via email at pgrabowski@carlsonsw.com or by phone at +48 888 888 038 or by Skype at p.grabowski23. For more information about the complete line of Carlson Software, visit www.carlsonsw.com