COLOGNE, Germany, Sep 30, 2021 – SHINING 3D, the pioneer of independent research and development of 3D digitizing and additive manufacturing technologies, announces an upgrade and expansion of the dental professional 3D scanner series with a brand new model. The constant optimization and innovation by SHINING 3D led to the  release of its finest intraoral scanner, Aoralscan 3.
It  improves the overall clinical experience allowing  users to easily acquire digital impressions in a faster and more accurate way. Powerful and intelligent data processing capabilities make Aoralscan 3 the perfect companion for first-time users as well as experienced users who demand the most from their scanning system.
Aoralscan 3 can be applied for a wide range of clinical indications,  always providing a state-of-the-art user experience with the best results.
Faster and more accurate scan performance  
The scan speed has been drastically improved, up to 30% faster than the previous model thanks to a renewed scanning technology.
Similarly, the accuracy is also greatly increased by 30%, allowing for better results.
Moreover, with a longer autoclavable scan tip and a greater scan depth, Aoralscan 3 is suitable for different clinical scenarios;  both dentists and patients can expect more comfortable experience.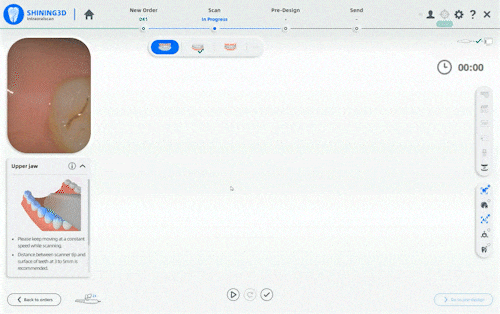 Smooth scanning experience for dentists
Thanks to AI, the new intraoral scanner can automatically identifies and filters out miscellaneous data during scanning. And with the help of the motion sensing control function, dentists can carry out the scanning process with minimal computer contact, ensuring safe and efficient clinical experience.
About SHINING 3D
Since its foundation in 2004, SHINING 3D has been pioneering in independent research and development of technologies for 3D digitization and additive manufacturing; SHINING 3D holds over 300 patents and more than 100 copyrights in these areas. As one of the market leaders, SHINING 3D offers mass-produced 3D products, advanced digital 3D technologies and comprehensive service for its customers operating worldwide. SHINING 3D has set itself the goal of improving efficiency when working with 3D structures, enabling flexible production technologies for very powerful, complex structures and making 3D digitization and technologies of additive manufacturing accessible – from the global enterprise to Hobbyists at home.
With comprehensive, easy-to-use and accessible solutions from the areas of "3D digitization", "intelligent design" and "additive manufacturing", SHINING 3D covers all requirements for digital 3D infrastructures in industrial production, medicine and biotechnology, in the optimization of Products, in education and many more. For more information, visit https://www.shining3d.com.