PITTSBURGH, PA, USA, May 5, 2022 – Ansys (NASDAQ: ANSS) announced the acquisition of Motor Design Limited (MDL). The acquisition and resulting addition of MDL's Motor-CAD to Ansys' existing portfolio will strengthen Ansys' electric machine design offerings, as proven by the successful partnership between the two companies over the past two years. Bringing Motor-CAD fully into the Ansys family of Multiphysics analysis software products will enable Ansys customers to design and bring to market more efficient electric machines leading to a more sustainable use of rare materials. Terms of the deal were not disclosed. The acquisition is not expected to have a material impact on Ansys' consolidated financial statements in 2022.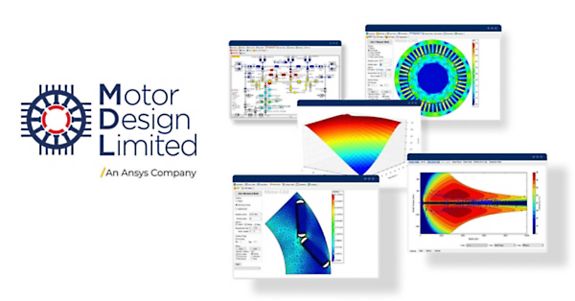 The global demand for greater power efficiency is rapidly driving electrification and sustainability initiatives — from electric vehicles and aircraft to electric motor-driven systems in the industrial sector. Ansys' acquisition of MDL will answer the growing global demand, providing customers with an industry leading comprehensive multiphysics workflow for electric machine design. Combining Ansys solvers with MDL's Motor-CAD into an end-to-end solution will enable customers to not only design more efficient electric machines but also apply them to more applications, which reduces environmental impact and cost for consumers, companies and governments.
The addition of Motor-CAD to Ansys' electric machine solution will deliver upfront design capabilities to Ansys' industry-leading multiphysics analysis capabilities. From user interface to a unique combination of finite element solvers and analytical algorithms tuned specifically for solving electric machines to the motor specific post-processing capability, Motor-CAD was developed specifically for electric machine design. The product contains coupled electromagnetic, thermal and mechanical modelling capabilities — tuned for rapid design of electric machines across the full operating range.
"Motor-CAD is the leading electric machine design tool. Bringing its technology into the Ansys family of multiphysics analysis software solutions will allow us to deliver tighter integrations and seamless workflows for all aspects of electric machine design," said Shane Emswiler, senior vice president of products at Ansys. "Together, we will provide customers with the most comprehensive solution for electric machine design, which is critical as industries and companies around the world pursue more electrification and sustainability initiatives."
"MDL will deliver upfront design capabilities to Ansys' industry-leading multiphysics analysis capabilities," said James Goss, CEO of MDL. "Bringing this comprehensive solution to the market will transform how customers approach electric machine design. We are thrilled to join Ansys and together deliver this end-to-end workflow to customers pushing the boundaries of electric machine design and performance." 
About Ansys
If you've ever seen a rocket launch, flown on an airplane, driven a car, used a computer, touched a mobile device, crossed a bridge or put on wearable technology, chances are you've used a product where Ansys software played a critical role in its creation. Ansys is the global leader in engineering simulation. Through our strategy of Pervasive Engineering Simulation, we help the world's most innovative companies deliver radically better products to their customers. By offering the best and broadest portfolio of engineering simulation software, we help them solve the most complex design challenges and create products limited only by imagination. Founded in 1970, Ansys is headquartered south of Pittsburgh, Pennsylvania, U.S.A. Visit www.ansys.com for more information.