SUZHOU, China, Apr 28, 2021 – Gstarsoft is pleased to announce the launch of GstarCAD Mechanical 2021. GstarCAD Mechanical 2021 is industry-specific designing and drawing software built for all fields of mechanical design and manufacturing.
Standardize your project
GstarCAD Mechanical 2021 is standards-based with built-in international drafting standards such as ANSI/BSI/CSN/DIN/GB/GOST/ISO/JIS, which are easily customizable to meet your every design requirement.
Greater compatibility
GstarCAD Mechanical 2021 has greater format compatibility with ACM, the complete underlying data of ACM drawings could be read and displayed with accuracy and vice versa. Users could edit and save ACM drawings very conveniently.
Dimensioning tools and symbol annotation
GstarCAD Mechanical 2021 provides many professional dimensioning tools to help users better deal with dimensions with accuracy and efficiency, including power dimension, multiple dimension, etc.
With GstarCAD Mechanical 2021, users would save more time on annotation input by relying on various symbols. More importantly, users can add newly-created ones to symbol library.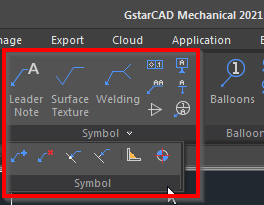 More enhancements
Explore the enhancements in Associative Balloon and part list, automatic BOM and data management
We can not only copy & paste, but also reorder the parts in a part list using a drag and drop action.
Improved Associative Hide
Associative Hide allows users to manage hidden details. The optimized Associative Hide in GstarCAD Mechanical 2021 greatly improves the calculation efficiency and accuracy in complex forefront and therefore saves our time.
Try it for free
With many automated and intelligent CAD tools for quick mechanical designing and drawing, GstarCAD Mechanical 2021 is sure to help complete your ideas perfectly, now check the new features and enhancements   https://www.gstarcad.net/mechanical/ and try it for free for 30 days !
About Gstarsoft
Founded in 1992, with more than 25 years of experience in CAD business, Gstarsoft has gained a large number of users and global partners through quality products and premium service. The worldwide distribution networks cover over 50 countries and most partners have more than 10 years of cooperation with Gstarsoft. With 4 R&D centers and over 150 software development professionals, Gstarsoft keeps devoting to streamlining the design procedures and revolutionizing the design industry by providing more innovative CAD solutions with new technologies in the fast-changing market. For more information, visit http://www.gstarcad.net.