LUBECK, Germany, Jun 29, 2021 – SLM Solutions launched another game-changing product called Free Float. The latest addition to the company's portfolio now empowers the creation of metal components with previously impossible designs and unmatched productivity, reducing overall material usage and minimizing the end-part cost to achieve industrial-scale production.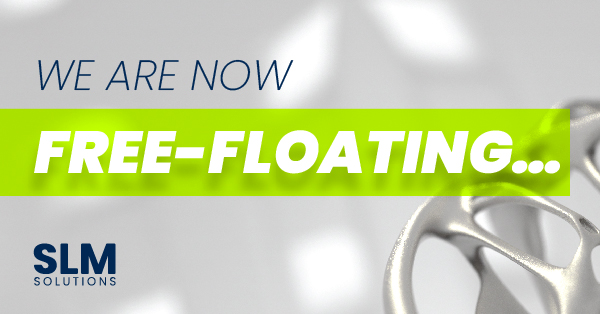 Sam O'Leary, CEO of SLM Solutions, recapped the event by saying, "With the launch of Free Float, you can design bolder, freer, and with fewer limitations. Today you can work faster and more productively. Today you can go to the place that will take you to the next level. Now that's disruption." In a surprise revelation during the after-event panel discussion, he also announced that the basic subscription would come free of charge: "We're not messing around. Free Float is a game-changer that will enable success and shouldn't be limited regarding accessibility."
Support structures have puzzled the company's Chief Engineer, Dieter Schwarze, from the very conception of the SLM® technology. Since the 1990s, support structures have been an inherent part of the 3D printing process. However, often, the design of the main component was limited due to the support structures needed to build them, and support structures could be a substantial section of the overall part volume. Supports also need to be removed later during the post-processing phase and increase material usage, which by default increases cost. These factors prompted Mr. Schwarze to wonder, "Is a support-free future viable?"
Years later, that future looked possible for the first time. In 2017, a first glimpse at what would become Free Float was discovered as a by-product of a research project. After rigorous research and development, Free Float was born. Today, its unique vector technology establishes thermal management that significantly decreases net build time while simultaneously enhancing part quality, especially the case in overhang areas, which can now free float, like the branches of a tree.
It's the latest and greatest in software innovation for SLM Solutions and reflects its initiative to be the best in class for its customers. At the forefront of its design was seamless usability: Its three profiles, low, medium, and high, easily give you the desired outcome. In the words of its product manager, Benjamin Haas, "You do not need a Ph.D. to use it."
And, following SLM Solutions' open architecture philosophy, Free Float was designed to be retrofittable on many previously built systems, including the SLM280 Production Series, the SLM280 2.0, the SLM500, the SLM800, and the NXG Xll 600.
For more information on this technology, visit: https://freefloat.slm-solutions.com.
To re-watch the launch video, visit https://freefloat.slm-solutions.com/live-stream.
About SLM Solutions
SLM Solutions is an integrated solutions provider and metal additive manufacturing partner. The company takes a vested interest in customer's long-term success with metal additive manufacturing. Robust Selective Laser Melting machines optimize fast, reliable and cost-efficient part production and SLM Solutions' experts work with customers at each stage of the process to provide support which elevates use of the technology and ensures their return on investment is maximized. A publicly traded company, SLM Solutions Group AG is headquartered in Germany, with offices in Canada, China, France, India, Italy, Russia, Singapore and the United States.