AACHEN, Germany, Sep 13, 2021 – As part of its e-F@ctory Digital Manufacturing initiative, Mitsubishi Electric is partnering with ModuleWorks to integrate the ModuleWorks machine simulation software into its CNC controls. The technology partnership enables users on the shop floor to benefit from powerful 3D graphical simulation with full-scene collision detection.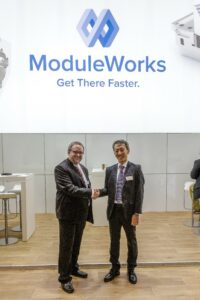 Mark Foti (ModuleWorks) and Takahisa Tanaka (Mitsubishi Electric) signing the partnership agreement at EMO 2019
"The ModuleWorks simulation is part of our strategy of leveraging strong technology partnerships that add value to our numerical control equipment and enable us to continuously deliver the latest technology to our customers in the shortest time." NC-System Department at Mitsubishi Electric
Integrated directly into the HMI, ModuleWorks machine simulation enhances the Mitsubishi controls with high-performance multi-axis milling and turning simulation including gouge and deviation analysis and collision detection with manual or automatic refinement of the simulation result. Workpiece coloring according to the sequence provides convenient visual analysis and enables operators to immediately identify and prevent potential collisions for safe and cost-effective machining.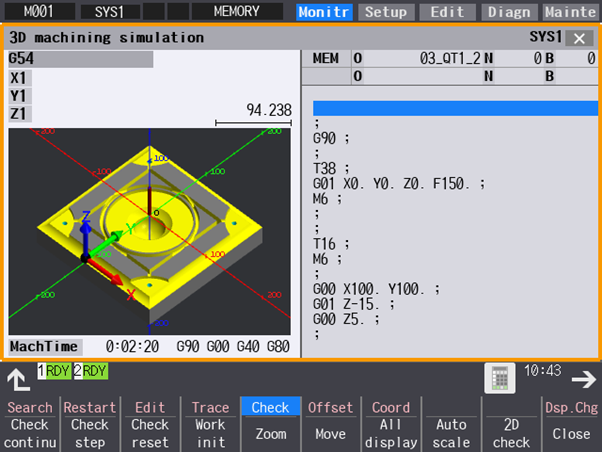 Mitsubishi Electric HMI with integrated ModuleWorks machine simulation
"It's great to see how our technology takes leading CNC manufacturers like Mitsubishi Electric a step further in their digital manufacturing strategies to improve machining performance, efficiency and safety. We look forward to a continued successful partnership and new technological developments. Mark Foti, Head of Digital Factory at ModuleWorks.
In the next stage of the cooperation, the two companies are extending the simulation with ModuleWorks collision  avoidance logic that automatically chooses the best way to handle the detected collisions.
About ModuleWorks
ModuleWorks is the leading software component provider for the digital manufacturing industry. With over 200 employees and 1000 person-years of software development, ModuleWorks' expertise in toolpath creation and simulation is recognized throughout the industry and its software components are already optimizing the performance and quality of over 500,000 installed seats of CAD/CAM and CNC software around the world. From standard products to exclusive development projects, ModuleWorks helps companies to bring their vision of Industry 4.0 to life. With its comprehensive portfolio of cutting-edge software components, ModuleWorks enables its customers to optimize their CAD/CAM solutions and connect to CNC/MTB systems to increase their competitiveness and help them Get There Faster.
About Mitsubishi Electric
With 100 years of experience in providing reliable, high-quality products, Mitsubishi Electric Corporation (TOKYO: 6503) is a recognized world leader in the manufacture, marketing and sales of electrical and electronic equipment used in information processing and communications, space development and satellite communications, consumer electronics, industrial technology, energy, transportation and building equipment. Mitsubishi Electric enriches society with technology in the spirit of its "Changes for the Better."