TROY, MI, USA, Apr 7, 2020 – Altair (Nasdaq: ALTR) a global technology company providing solutions in product development, high-performance computing (HPC), and data analytics, announced that Elias Hatem, a PhD student studying Electronics and Communications Engineering, is the winner of the 2019 Altair Electromagnetic Student Competition.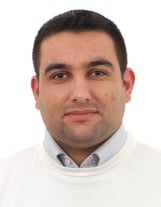 Elias Hatem, winner of the 2019 Altair Student Competition
Mr. Hatem is a PhD Student of Electronics and Communications at Paris-Est Universiy and the Lebanese University in collaboration with AlliansTIC laboratory at EFREI (École d'Ingénieurs Généraliste du Numérique) in Paris, France.
The 17th Annual Altair Electromagnetic Student Competition is an annual international contest established by Altair to acknowledge engineering students interested in antennas, electromagnetic compatibility, wave propagation modeling, wireless connectivity, and other electromagnetic-related fields. Open to undergraduate and graduate students from any location, the contest is designed to give students the opportunity to showcase their work using Altair Feko or Altair WinProp, both of which are part of the Altair HyperWorksTM suite.
"We are proud of all the students who participated in this competition and want to especially congratulate our first-place winner, Elias Hatem, whose work focused on RFID transmissions," said Dr. Ulrich Jacobus, senior vice president, electromagnetics at Altair. "This competition is one of many initiatives that illustrate how Altair's global academic program is focused on enabling young engineers and data analysts to explore numerous design ideas in less time through their use of our industrial-strength modeling and simulation software – in this case, Altair Feko and Altair WinProp. We believe that the students' ability to leverage tools like ours to innovate faster, through realistic project-based learning, will prepare them for the premier jobs in industry."
Hatem received the award for his 3D model for propagation of UHF-RFID tags' signals in an indoor environment. The competition jury was especially impressed by the creation of his entire workflow, from the computer-aided design (CAD) model of the indoor scenario to the simulation with WinProp. Hatem's project created an excellent match, of 97 percent correlation, between simulation results and measurements, and the complex post-processing process. He is pursuing his PhD degree at Paris-Est University and the Lebanese University in collaboration with AlliansTIC laboratory at EFREI (École d'Ingénieurs Généraliste du Numérique) in Paris, France.
"I have never thought I'd be the winner of this competition and feel very grateful to have this opportunity to present my PhD work. Special thanks go to my two supervisors who always encourage me to exceed in what I do," said Hatem.
The project was guided by the two advisors Elizabeth Colin, associate professor and head of Robotics Systems and Drones at EFREI, and Sarah Abou Chakra, associate professor at the Lebanese University.
"Congratulations to Elias, he worked tirelessly to get very promising results. We have used Altair WinProp to simulate indoor environments in our research work and the results obtained encourage us to use it for future student projects at EFREI Paris," said Colin.
"There is nothing more fulfilling than reaping the fruits of our labor. I'm very happy for Elias' achievement, which I consider a success for him and the institutions he works with. Teamwork makes the dream work," said Abou Chakra.
The winning project titled, "3D Modeling for Propagation of UHF-RFID Tags' Signals in an Indoor Environment," is available for download here.
Details about future student competitions and more information about the Altair University Program for students can be found on the Altair University website.