AACHEN, Germany, May 27, 2020 – ModuleWorks, Bosch Rexroth and CIMT have combined their technologies to bring real-time machining simulation to digital dentistry.
ModuleWorks real-time simulation runs directly on high-end CNCs and provides accurate 3D visualization of the machining process including material and machine simulation. Bosch Rexroth has integrated this functionality into its MTX CNC that enables operators to view the simulation either directly on the CNC's touchscreen HMI or on a remote device such as a laptop. CIMT, a Germany-based specialist for integrated milling technology, saw the potential of this technology for digital dentistry and is now using the Bosch Rexroth MTX with integrated ModuleWorks simulation for its high-performance Tizian 5.4 dental milling machine.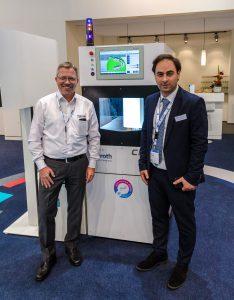 The CIMT 5-Axis Milling Machine, Tizian 5.4, at EMO 2019. Dr. Karsten Kreusch (left) Product Management CNC and Motion Control Systems, Bosch Rexroth. Soroosh Eghbali (right) Head of CAM Automation and Digital Dentistry, ModuleWorks.
As Christian Heine, CEO of CIMT explains, "Real-time simulation is already the standard in many machining applications, but until now it was not being used in digital dentistry. We saw a great chance to change this. The ModuleWorks simulation software is directly integrated in the Bosch Rexroth HMI which enabled us to quickly and efficiently build it into our dental milling solution."
 "It's great to see how CIMT is using the simulation technology from our industrial portfolio to add value to digital dentistry. This brings us closer to our vision of providing the most advanced manufacturing technology to the digital dentistry market and creating more efficient workflows that optimize the profitability of dental labs and practices.", said, Soroosh Eghbali, Head of CAM Automation & Digital Dentistry at ModuleWorks.
Tightly integrated in the MTX, the ModuleWorks simulation technology has direct access to the real axis positions, machine geometries and workpiece position and uses the same motion data as the real servos to deliver a highly accurate real-time simulation of the entire machine kinematics. CIMT operators benefit from a detailed and unobscured visualization of the whole dental machining process from every angle in real-time. The simulation also offers visual aids such as a deviation analysis to highlight the rest material after machining.
CIMT Dental interface with integrated ModuleWorks machining simulation
"Because the ModuleWorks simulation technology is integrated in our MTX CNC, all the machine parameters and data are included in the simulation and you can easily catch potential problems that you cannot see during a CAM simulation.", said, Dr. Karsten Kreusch, Product Manager CNC and Motion Control Systems at Bosch Rexroth.
The simulation provides a clear and detailed visualization of the machining process
Used in combination with the Bosch Rexroth digital twin, the ModuleWorks technology also enables CIMT operators to simulate the dental machining process offline on a virtual machine to quickly identify and fix any problems before starting the real machining job. This reduces machine downtime, keeps production moving and ensures cost-effective use of material in dental labs and practices.
"It's exciting to see how shop floor technology developed by ModuleWorks is being leveraged and used across multiple industries. Our goal is to develop versatile technology that can be integrated and used in many different ways to help our partners, regardless of which business area they are in, to Get There Faster.", said, Mark Foti, Head of Digital Factory at ModuleWorks.
Close up of the CIMT Tizian 5.4 dental milling machine
For more information about the integration project, click here.
About Bosch Rexroth
As one of the world's leading suppliers of drive and control technologies, Bosch Rexroth ensures efficient, powerful and safe movement in machines and systems of any size. The company bundles global application experience in the market segments of Mobile Applications, Machinery Applications and Engineering, and Factory Automation. With its intelligent components, customized system solutions and services, Bosch Rexroth is creating the necessary environment for fully connected applications. Bosch Rexroth offers its customers hydraulics, electric drive and controls technology, gear technology, and linear motion and assembly technology, including software and interfaces to the Internet of Things. With locations in over 80 countries, more than 31,000 associates generated sales revenue of roughly 6.2 billion euros ($7.3 billion) in 2019. For more information, visit https://www.boschrexroth.com.
About CIMT GmbH
Based in Rosdorf, Germany, CIMT GmbH develops high-end 5-axis machining centers for digital dentistry. With a unique combination of high-precision mechanics and industrial measurement, control and drive technology, CIMT machining centers have an industry-wide reputation for high-accuracy, high speed machining. Innovative solutions, such as online 3D visualization of the machining process, ensure easy and reliable operation for dental technicians. For more information, visit https://www.akcurate.de/en/frasung/index.html.
About CAM Automation & Digital Dentistry
ModuleWorks CAM Automation & Digital Dentistry, one of ModuleWorks' four business areas, develops the leading CAM solution for digital dentistry with tens of thousands of licenses in the global dental laboratory market and 35% of all newly sold dental CAM seats. The dedicated Digital Dentistry Engineering department, based in Aachen, Germany, leverages a software development team of more than 150 developers and 900 man-years of software development to address the manufacturing challenges in digital dentistry and to drive innovation. This is achieved by providing fully customized solutions tailored to the individual requirements of each ModuleWorks hardware and software partner. The vision is to bring ModuleWorks' market leading industrial machining, 3D printing and simulation technology to digital dentistry, thus creating a more efficient, high-quality workflow for dental laboratories and practices.
About ModuleWorks
ModuleWorks is the leading software component provider for the digital manufacturing industry. With over 200 employees and 900 man years of software development, ModuleWorks' expertise in toolpath creation and simulation is recognized throughout the industry and its software components are already optimizing the performance and quality of over 500,000 installed seats of CAD/CAM and CNC software around the world. From standard products to exclusive development projects, ModuleWorks helps companies to bring their vision of Industry 4.0 to life. With its comprehensive portfolio of cutting-edge software components, ModuleWorks enables its customers to optimize their CAD/CAM solutions and connect to CNC/MTB systems to increase their competitiveness and help them Get There Faster. For more information, visit https://www.moduleworks.com.