NOVOSIBIRSK, Russia, Jun 22, 2020 – LEDAS, a global provider of software research and development services for the engineering market, released an update on its business in light of the COVID-19 pandemic.
At the end of March and during April, a few LEDAS customers were forced to reduce costs by suspending or decreasing their projects with us. The decrease was caused by the general global decline, which affected CAD and manufacturing industries everywhere. Personalized digital medicine, a rather new but important sector for LEDAS, also declined, as healthcare changed its focus to fighting the coronavirus, and so other medical treatments were partly suspended.
The decline reversed during May and into the beginning of June from two sources of growth. Some projects returned to their previous levels of execution, and new customers began projects with us. In the area of digital dentistry, for example, one project essentially halted in March but then resumed in May, because dentistry took a big dip during the peak spread of COVID-19 in Europe and North America. Talking of new projects, in May we began a new project in specialized 3D modeling.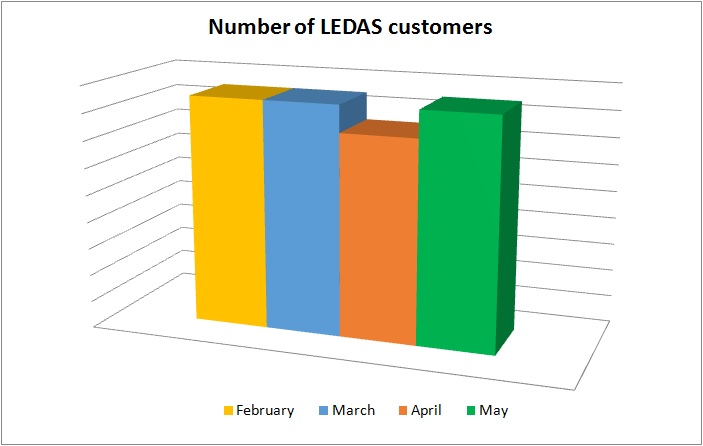 One reason the impact of coronavirus was rather small on our business is due to our involvement in long-term projects. These projects have long roadmaps, with sales typically lasting years into the future. When you develop a 3D kernel, a constraint solver, or a complex algorithmic engine for polygonal meshes (all in development by our team now), you plan for decades, not for months or even years.
The spread of coronavirus in Russia is yet not in stable decline, but our Novosibirsk region fortunately was not severely affected. Both the infection rate and the lethal rate are considerably less than in the Moscow region and most western countries.
In any case, LEDAS employees began working from home in March. This was due to an internal management decision before the start of the official lockdown by the government. We will continue to work remotely, as our work processes have been adjusted to this new environment.
We consider the pandemic to be the highest level of global threat, and we address it seriously at both the corporate and personal levels.
About LEDAS
LEDAS is a worldwide leader in providing of research and development services for engineering software market. Choose LEDAS for your CAD software. Begin your consultation by visiting us at www.ledas.com.